Click cover to see larger image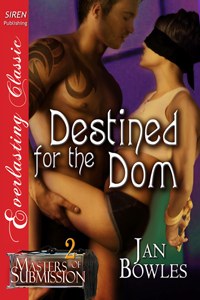 Destined for the Dom
(Masters of Submission # 2)
Erotic dancer, Zoë Leighton is overjoyed when Hunter Black re-enters her life. Fourteen years ago he'd made her a promise he didn't keep, but now he's back to make amends. Down on her luck and facing eviction from her apartment, she reluctantly accepts his help.
Hunter introduces Zoë to Club Submission and the D/s lifestyle he now enjoys. Using the skills of the dominant, he brings stability and control to her otherwise chaotic life, and she soon falls head over heels in love with the powerful Master.
Ten years as a Marine has left Hunter cold and detached. He's seen enough death and destruction to last him a lifetime. Keeping aloof protects him from losing the people he loves the most. Those three little words--I love you--will never pass his lips.
Will Zoë's sweet submission melt the ice that surrounds his heart? Is she truly destined for the Dom?
Available as an e-book PDF, LIT, HTML, Kindle, & EPUB.

KINDLE || KINDLEUK || KOBO || ITUNES || NOOK || NOOKUK || SONY || eBOOKS || GooglePlay

You can purchase the paperback book from these stores
AMAZON.COM || AMAZON.CO.UK || BARNES & NOBLE
Check out the other books in the series here
Want to read the 1st Chapter free? Click here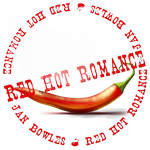 Adult Excerpt
Destined for the Dom
"Zoë, I'm warning you." Before he could stop her, she'd pushed open the door and flicked the light switch. He guessed she'd been disappointed that his bedroom was so ordinary, and figured as a Dom, he'd have something more exciting hidden away. He watched her come to a complete and sudden standstill.
"Hunter, it looks like a dungeon."
"I prefer to call it my playroom."
She glanced in his direction. "Is this where you practice your D/s lifestyle?"
"Sometimes." He'd forgotten Zoë always did have a way of finding out his most intimate secrets. As a teenager, and to his acute embarrassment, she'd always been able to prize them from him. But he wasn't a kid anymore. He felt proud of who he was and what he'd achieved. Instead of running away, like most women who'd enjoyed an easy life would have, she moved further into the room.
The playroom was designed to his exacting standards. Painted in dark red and black, the walls featured ornate ironwork torches. They flickered eerily, casting their authentic-looking shadows over the walls. Their menacing glow created exactly the atmosphere he was looking for, when entertaining a sub.
"So much kinky stuff, Hunter." Zoë's fingers began skimming across the pieces of bondage furniture that filled the playroom. She grinned at him, and he knew she was teasing. "So how does this one work?" Her fingers glanced across the sawhorse as her eyes connected mischievously with his.
Hunter folded his arms across his chest and leaned back against the wall. "I think you're intelligent enough to come up with a few ideas of your own. After all, you weren't born yesterday, Zoë."
"And this?" She touched the bondage table, with thick leather straps attached to each leg. A large naughty grin developed on her face as she smoothed a hand over the display of whips and crops that hung from the walls. "I see you like to choose your weapon of submission. You have an impressive collection, Hunter."
He wagged a finger at her. "You are a naughty, naughty girl, Peaches. Keep pushing, and you're gonna find yourself in a lot more hot water than you bargained for."
"Mmm, promises." She stood by the St. Andrew's cross and spread herself over the wooden structure, exactly mirroring the large X with her arms and legs. "Is this how it works?" she asked, already knowing the answer. Her beautiful elfin face looked a picture of innocence, but underneath, she was anything but. Maybe it was time to give the little tease a taste of her own medicine.
Hunter pushed away from the wall, and purposefully strode toward her. A surprised gasp left her lips as he suddenly anchored her wrists in place above her head. She was so small and fragile. Her cute little face stared knowingly up into his eyes.
"That's much better. I like my women to be well and truly kept in their place." He felt her body squirming beneath his, but it was a halfhearted attempt at escape.
Although keeping it friendly, he had to exert his authority. This was his domain, and there were rules that needed to be followed. "Now this is my playroom, Peaches, and as such it is strictly off-limits to you. If I find you in here again, I'll take it you want to play for real. It's a rule I will strictly enforce, without exception."
Hunter leaned down and brushed his lips across hers. He noticed the pulse at the base of her throat beating frantically, and he liked the power it gave him. He was in no doubt that Zoë was turned on by his authoritative manner. Maybe a little demonstration of his power would get his message across. He decided to deepen the kiss. He'd been wanting to ever since he'd laid eyes on her again. Holding her arms helplessly above her head, he captured her mouth, forcing his tongue between her parted lips, possessing her, owning her.
His cock immediately hardened when he heard the submissive little animal noises reverberating deep in her throat. Zoë flexed her hips, her body arching beneath his. Wishing they were both naked, he ground his cock against her cunt, pinning her firmly in place, until she stopped squirming. He knew from the look in those beautiful green eyes of hers that she felt his erection, pulsing against her belly.
Her whole body trembled as he finally released her. Looking down at her submissive posture, he said, "I trust I've made myself clear?"
In a state of barely disguised sexual arousal, she stared up at him and whispered breathlessly, "Absolutely, Hunter."

KINDLE || KINDLEUK || KOBO || ITUNES || NOOK || NOOKUK || SONY || eBOOKS || GooglePlay
You can purchase the paperback book from these stores
AMAZON.COM || AMAZON.CO.UK || BARNES & NOBLE
Check out the other books in the series here
Want to read the 1st Chapter free? Click here