Click cover to see larger image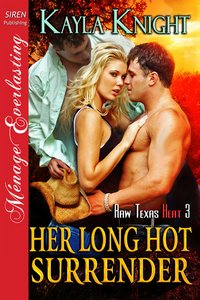 Her Long Hot Surrender
(Raw Texas Heat # 3)
[Erotic Cowboy Ménage a Trois Romance, M/F/M, light bondage]
The unrelenting Texas heat is not the only reason why twenty-eight-year-old Madi Allen's temperature is soaring. The Hayes brothers, who work the ranch next door, are hotter than July! Gabe and Tyler are in their prime, and can satisfy her every sexual fantasy. Just one problem—they enjoy ménages!
The cowboy brothers have their sights firmly set on Madi. Still smarting from a failed marriage, she's returned home after ten years away. Alpha males Gabe and Tyler will enjoy taming the opinionated firebrand into submission.
When her sick mother reveals a secret, Madi finds herself at a crossroads. One way lies the return to her privileged Washington life. The other way lies the incredibly sexy Hayes brothers. Should she enjoy all that Gabe and Tyler have to offer, or take the sensible option and return to her old life?
Note: There is no sexual relationship or touching for titillation between or among siblings.
Available as an e-book PDF, LIT, HTML, Kindle, & EPUB

KINDLE || KINDLEUK || KOBO || ITUNES || NOOK || eBOOKS || GooglePlay

You can purchase the paperback book from these stores
AMAZON.COM || AMAZON.CO.UK || BARNES & NOBLE
Check out the other books in the series here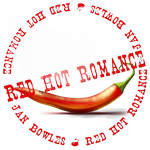 Excerpt
Her Long Hot Surrender
Gabe moved his hands lower, following the line of her spine with his thumbs. When he reached the dimples in her ass he rubbed his thumbs back toward her neck. Her skin felt silky smooth, and he traced his fingers over each shoulder blade. "Baby, I love your angel wings."
She giggled girlishly. "Angel wings, I like that name."
He smiled to himself as she squirmed beneath him. With tiny caresses of his lips, he worked his way up to her neck.
She sighed contentedly as he snaked his tongue over her earlobe before swirling it inside the exquisite shell.
She playfully slapped his cheek with her hand. "Bad boy, that tickles."
"You love it," he whispered.
"I can't help it. It's all your fault, working me up into a frenzy."
"So you liked me watching you and Tyler fuck?"
"Yes. You know I did. It was obvious, I kept looking across at you, seeing your response."
"I'd hoped you'd ask me to join in."
"I wanted to but—I'm sorry, Gabe. I guess I was a little scared."
"We'd never do anything to hurt you. We both adore you, Madi. Surely you know that by now?"
"I know. I wanted you to touch me, Gabe, but I was afraid to ask."
Gabe kissed her cheek. "Don't worry, baby. I can more than make up for it now." He trailed his hands down her spine once more, feeling her shiver beneath his touch. When he reached her womanly belly, his hands circled her tiny waist. "You're so slender, my fingers almost meet. Kneel on all fours, baby."
She did as he told her, her cute, creamy ass rising in front of him. Gabe smoothed his hands over her perfect globes.
"You've got the cutest, most fuckable butt I've ever seen." He leaned down, licking and kissing each peachy rump in turn. Hearing her purr in appreciation only excited him more.
Tyler returned from the bathroom and tossed him a condom. "Use this."
Gabe tenderly stroked Madi's cheek. "Now, open your legs, baby. I need to be inside you."
Tyler lay on the bed, resting against the headboard. Gabe enjoyed an audience as much as his brother did. He breathed a sigh of relief when Madi opened her legs, allowing him to see her perfect cunt and cute, little puckered rosette from behind. He was in no doubt that very soon, he and his brother would fill both holes together. His cock twitched at the thought. Excitement mounting, he quickly knelt between her legs. He ripped the foil pack open, discarding the packaging, and then rolled the condom down his aching shaft. He'd been in this exact position with plenty of women, but he'd never wanted a woman as much as he wanted Madi right now. She was special.
Gabe possessively grasped her hips, aiming his prick for the soft folds of her pussy. Madi cried out as he entered her, her head arching back. "My God, she's tight, Ty."
"I know. She's got the cutest pussy."
Gabe figured she was still extra-sensitive from her recent orgasm. "You like that, baby."
 "Oh, Gabe, please. You feel so big."
Gabe pumped his cock inside her. Watching his dick disappear and reappear was a big turn-on. He placed an arm around her shoulders, pulling her back against his chest. "Go with it. I've got you."
Madi did as he asked, offering no resistance. He cradled her weight as she leaned back against him. With her impaled exquisitely on his dick, he'd never felt this close to a woman before. Her hand fluttered up and gripped his neck for support. Gabe looked over her shoulder, staring down at her gorgeous body. "You're so beautiful."
Tyler couldn't resist adding, "Jesus, Madi. Watching you fuck makes my cock as hard as actually fucking you."
Madi panted. "Keep watching, Ty. I love you to watch. I need you to."
Gabe's arm circled her waist. The other held her hip. Her flawless porcelain skin contrasted with his suntanned flesh. Her milky softness the complete polar opposite of his rough, weather-beaten skin. Her nipples appeared puffy and swollen. They were just ripe for kissing and biting. He knew they would harden into sensitive nubs.
"Fuck, if my tongue was long enough, I'd lick your nipples and suck them forever."
A sexy moan tore from her lips. "Oh, Gabe, don't tease me."
"Baby, just imagine my tongue lapping your areolas. I'd suck them so hard. They'd graze against my teeth. Then I'd slip my finger onto your clit and bite them until you couldn't stop coming."
A whimper escaped her parted lips. "Oh, Gabe, don't do that. You know your words make me wet."
A chuckle left his lips. "Why don't we ask Ty to help us out?"

KINDLE || KINDLEUK || KOBO || ITUNES || NOOK || eBOOKS || GooglePlay

You can purchase the paperback book from these stores
AMAZON.COM || AMAZON.CO.UK || BARNES & NOBLE
Check out the other books in the series here