Click cover to see larger image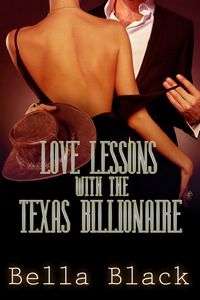 Love Lessons with the Texas Billionaire
First published by Jan Bowles
English beauty Eva St. John is flown to Texas to shadow rugged billionaire oilman Jack McClaine, for the magazine article she is writing.
He has a reputation as a fast living, womanising rogue, who has quite literally come from the wrong side of the tracks. A self-made man who always gets what he wants.
Still nurturing a broken heart and a secret past she left behind her long ago, Eva intends to remain professional at all times. But will she be able to resist the inevitable sexual advances of the predatory Texan Jack McClaine? And will she really want to?
As a rule Jack McClaine never mixes business with pleasure, but for the beautiful and intriguing Eva St. John he will make an exception. Who is she really? And what is she running from?
Available as an e-book PDF, LIT, HTML, Kindle, & EPUB

KINDLE || KINDLEUK || KOBO || ITUNES || NOOK || LUMINOSITY || GooglePlay || SMASHWORDS

You can purchase the paperback book from these stores
AMAZON.COM || AMAZON.CO.UK || BARNES & NOBLE
Want to read the 1st chapter free? Click here
Excerpt
Love Lessons with the Texas Billionaire
"Why, Miss Eva St. John, I feel about as welcome as a skunk at a lawn party." Jack McClaine spoke as mild amusement played around his silver-grey eyes.
Eva eyed him warily. It was only two days since she had first laid eyes on the rugged Texan. Now his lithe, athletic frame perched on the desk, her desk. He looked every inch at home, as if he belonged there. Wearing a light grey suit, he seemed to think his very tall six-foot-three-inch frame had somehow a right to be there.
"Just what is going on, Mr. McClaine?" Eva folded her arms across her chest, her mouth compressed with indignation, as she waited for his answer. Her gaze was drawn inexorably to his, and like a laser it burned into her. Then as a smile spread from his eyes down to the deep dimples at the side of his mouth, she felt the breath escape from her lips in a silent gasp. Why did he have to be so damned attractive? She had to fight the sudden urge to push the stray hair back that had fallen forward across his forehead.
"Mr. McClaine, are you going to answer my question?"
"Hold on now, darlin', I thought we were on first-name terms already." He smiled at her in amusement.
"No, we're not." She slumped into her chair and glared up at him. "Andrew Jameson could shadow you for a month. Why do you want me? I won't be a pushover, you know. I'll certainly write exactly what I think."
He smiled easily and twisted around to meet her frosty gaze. "Now, why would I want Andrew Jameson to shadow me for a whole month? Live in my home. Share my food. Share my life. Why would I want him when I'd be much happier with you?"
Eva picked up a pen and pointed it at him. "You, Mr. McClaine, have a reputation. If you are expecting anything but a working relationship, then you are mistaken." "Well, that's settled then, honey."
She looked up watching the amusement play around his eyes. The creases channelled down to his mouth. "Don't look so smug, Mr. McClaine. You may regret your decision to invite New Dawn magazine into your home. You may not like what I write. Be careful what you wish for, Mr. McClaine."
"Darlin', I've never regretted anything in my life."
"I told you once before, Mr. McClaine, I'm not your honey, and I'm telling you now, I'm not your darling either."
He laughed. "Eva, it's just a figure of speech. It don't mean anything."
That afternoon a huge row developed with her boss, Simon Jessop, but he wouldn't back down. If she pulled this off, he'd give her a raise. Even more than that, he'd give her a promotion. She wanted to know why he thought Jack McClaine specifically asked for her to do the article. His thoughts exactly mirrored her own. He had lifted his hands in the air, an expression of helplessness on his face, and said, "You're a big girl, Eva. I'm sure you can handle yourself, and Jack McClaine."
Well, thanks!
Eva felt like a dish served up specifically for Jack McClaine's pleasure. What's more, her boss had handed her over on a solid silver platter.

KINDLE || KINDLEUK || KOBO || ITUNES || NOOK || LUMINOSITY || GooglePlay || SMASHWORDS

You can purchase the paperback book from these stores
AMAZON.COM || AMAZON.CO.UK || BARNES & NOBLE
Want to read the 1st chapter free? Click here