Click cover to see larger image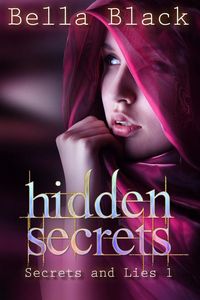 Hidden Secrets
(Secrets and Lies # 1)
First published by Jan bowles as Dark Secrets
Thirty-two year old English Architect Sam Marshall had vowed never to return to Oxley in Oxfordshire. When he meets Megan Lawrence, a twenty-five year old ethereal beauty for the first time in ten years, for the funeral of her brother, old wounds are re-opened.
Their troubled past has remained unspoken all this time. Neither of them wants to broach the subject, yet they both know the deep attraction between them will not go away. Are they really willing to lay their emotions bare in order to move on? Can they finally put the past behind them once and for all?
Will Sam eventually find it in his heart to forgive Megan? And will Megan ever learn to forgive herself?
Available as an e-book PDF, Kindle, & EPUB

KINDLE || KINDLEUK || KOBO || ITUNES || LUMINOSITY || NOOK || GooglePlay || SMASHWORDS

You can purchase the paperback book from these stores
AMAZON.COM || AMAZON.CO.UK || BARNES & NOBLE
Want to read the 1st chapter free? Click here
Excerpt
Hidden Secrets
Megan turned to him when they were left alone, her face expressionless, and her eyes unblinking. "Would you like another drink, Sam, or I can show you to your room?"
He drummed his fingers on the tablecloth as he looked at her. Cool as ice. Who knew what she thought? He drained the last remnants from his wineglass.
"It's been a long, stressful day. Perhaps I need an early night."
He wasn't tired, but the thought of spending time alone with Megan unnerved him, and he had no idea why. He ran a multibillion-dollar company, yet it barely seemed to impress her. It was just like the first time that he'd met her. She had been as unimpressed then as she was now.
He collected his overnight bag from the Bentley, and then followed her up the long, sweeping marble staircase. His gaze drifted to her perfect behind, so shapely and defined in the sheer black dress she wore. He guessed Megan knew where he looked at the way her hips swayed with each stair tread she climbed.
The ancestor's portraits, which hung on the walls, cast their aspersions down the centuries, and he turned away, convinced they mocked him. They passed several doors until they reached one at the end of the corridor. She opened the door, and switched on the lights.
The traditionally furnished room held half a dozen pieces of mahogany furniture, including a large bedstead with side tables. The gold-painted walls contrasted nicely with the topaz blue bedspread. He tossed his bag and suit jacket onto a chair, and went over to the window to draw the curtains. When he turned around, Megan surprised him by lying on his bed. She leant on her elbow, the curves to her body accentuated by the softness of the mattress.
"What are you doing?" His gaze travelled over her. She certainly looked very alluring. He felt his cock harden with unwanted desire as he looked at her.
"Do you like what you see?"
"Megan, I ask again, what are you doing?"
"I saw you looking at me during dinner. Now, are you going to answer me? Do you like what you see?"
He sighed. This was just like the old Megan. "Yes, you are very beautiful, Megan. But-"
"-But? Don't you want your pound of flesh, Sam?" She stroked her hand provocatively across the satin bedspread as she looked up at him. She was never going to change was she, once a troublemaker, always a troublemaker.
He folded his arms across his chest, and leant back against the wall. She had drunk wine during dinner, but not that much. Although maybe, just enough to release her inhibitions.
"Megan, you're all mixed up. Go to bed."
She stretched out her long legs so elegantly on the bed, and kicked off her shoes. "Is that an invitation?"
Somehow, he didn't think Megan was as drunk as she made out. He knew she tested him, just to see what would happen.
The games some women played. Well, he'd see just how far she would take her little game. The Sam Marshall she'd known had changed considerably in the intervening ten years. If she wanted to play with fire, he'd see to it that she got well and truly burnt.
He walked over to the open door and shut it, turning the key in the lock with a resounding click.
Her head lifted sharply off the pillow. He smiled. She wasn't so sure now. Well, he'd push her a little bit more, just to see. He sat on the bed and stroked his hands down the lovely smooth flesh of her arms. Yes, her skin was really soft, just like he knew it would be. He watched amused as she sat up almost immediately.
"This pound of flesh, Megan." He kept his voice low and seductive. "I think you owe me at least the whole night."
"Oh?" Her eyes widened in surprise, and her lips parted. He could just detect the wariness as she looked at him. She hadn't expected him to act this way, had she?
He leant in, and focused on her mouth. "One night, and all is forgiven." Breathing softly, he brushed his lips across hers. Then he moved his hand up to the delicate nape of her neck. He felt her pulse beating rapidly beneath his fingertips. His gaze flickered to hers. His own pulse began to increase, the way she looked at him, like she really wanted him. He kissed her then, a proper kiss. He'd show her not to mess around with Sam Marshall. He'd go all the way if he had to.
Her lips were soft and melded perfectly with his. He moved his hand down to her waist, and pulled her closer as he let the kiss deepen. When he slid his other hand beneath the hem of her dress, his senses sharpened. Stockings had given way to soft, bare flesh. Going all the way with Megan would be a very pleasurable experience.

KINDLE || KINDLEUK || KOBO || ITUNES || LUMINOSITY || NOOK || GooglePlay || SMASHWORDS

You can purchase the paperback book from these stores
AMAZON.COM || AMAZON.CO.UK || BARNES & NOBLE
Want to read the 1st chapter free? Click here
Check out the other books in the series here