Click cover to see larger image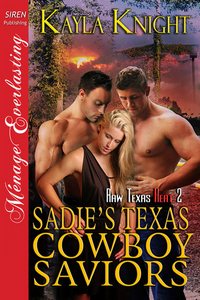 Sadie's Texas Cowboy Saviors
(Raw Texas Heat # 2)
[Erotic Cowboy Ménage a Trois Romance, M/F/M, bondage, sex toys]
A traumatic experience causes twenty-five-year-old Sadie Myers to lose her memory. All that connects her to the past is an old photograph of herself standing outside a cattle ranch in Texas. Frightened and confused, but needing answers, she heads straight for the ranch.
When cowboy brothers Matt and Joe Connors discover Sadie hiding in their barn, their first thought is to help and protect her. However, Sadie is a temptress. This beautiful woman bewitches and beguiles them, and they are unable to resist her feminine charms and latent sexuality.
Sadie needs these two hunky cowboys like the air that she breathes. She feels sure they will protect her from the unknown threat that has caused her memory loss.
Will Sadie be able to face her past when her memory returns? Or will her traumatic earlier life prove too powerful for her and her cowboy lovers to overcome?
Note: There is no sexual relationship or touching for titillation between or among siblings.
Available as an e-book PDF, LIT, HTML, Kindle, & EPUB

KINDLE || KINDLEUK || KOBO || ITUNES || NOOK || eBOOKS || GooglePlay

You can purchase the paperback book from these stores
AMAZON.COM || AMAZON.CO.UK || BARNES & NOBLE
Check out the other books in the series here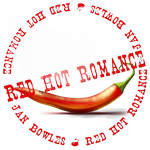 Excerpt
Sadie's Texas Cowboy Saviors
"Ah, darlin', you are so beautiful. What's the matter? Can't you sleep?"
Her lips pouted provocatively. "I tried, but I miss you both so much," she whispered. "The bed is so big and empty without you." Matt smiled. She sure knew which buttons to press.
Joe held out his arms. "Why don't you come over here and keep us both company? I'm sure we've got the perfect solution for your insomnia."
Sadie looked stunning as she stood semi-naked in front of them. The see-through nightie was almost too revealing. Matt felt his cock harden painfully in his jeans. Fuck, he wanted her. He wanted to fill her with his dick and hear her squeal his name.
Joe stood behind her and held her in his arms. "Now what do you suggest as a cure for insomnia, Matt?"
Matt put his beer down and walked over to them. He could clearly see her naked body beneath the flimsy material. He loved the way her breasts heaved with excitement. "Have you been a naughty girl?" he asked, running his hand down her body. She quivered beneath his touch.
Her lips pouted as she played the naughty role to perfection. "I don't know. Is thinking naughty thoughts naughty?"
"Hmm, depends on how naughty your thoughts are."
"That's easy. I've been thinking about your big hard cocks filling my pussy and ass." The image made Matt's dick lengthen and harden even more, and he closed his eyes. He heard Joe groan. Sadie seemed in her element, her eyes bright and sparkling as she continued teasing them. "Is that naughty enough?"
Matt smiled. "Definitely. Now strip. I think you need a lesson in self-control, young lady." He turned to his brother and winked conspiratorially. "Go and get the punishment we use for disciplining naughty girls, Joe."
"Punishment? What punishment?" Sadie looked shocked and a little nervous, and also very excited, too.
Matt smiled into her eyes, stroking a hand down her beautiful face. "No need to worry yourself, baby. All will become clear very soon." He motioned with his hands. "I thought I said strip. I won't ask you again."
Sadie smiled and casually let her nightie slip to the floor in a sexy wiggle. She sure was a big tease. Her pert breasts jutted outward and upward. Her pretty rosebud nipples seemed achingly taut and aroused. He noticed her waist cinched into a delicious curve that continued around to form her beautiful ass. He loved Sadie's figure. She was so tiny, yet so feminine and curvy at the same time.
When Joe returned, his eyes feasted hungrily on her naked body. He held up the large butt plug they'd bought especially for her. Sadie's eyes widened.
"That's huge."
"Not as big as my dick, Sadie," Joe assured her as he began undressing in front of her. "See." He held it against his own fully erect penis for comparison. "You need to get used to this in your ass before my big cock takes it place."
For a moment she looked worried, and then a smile spread across her face as she studied the difference. "My, my, guess I didn't know what I was letting myself in for." She licked her lips, still definitely teasing them both. "But I trust you, so it's okay."
Matt began shedding his clothes, too. "Bend over the sofa, Sadie. You need to get ready for your punishment. I'm sure Joe will administer some swift justice."
Gripping the sofa with her hands, Sadie bent over the leather upholstery, her perfectly formed butt rising high in the air, awaiting her discipline. Joe whistled long and low, expelling his breath. "Whoa, that sure is one hot, sassy ass, just begging to be tamed." He leaned forward and whispered in her ear. "A cute, naughty ass, Sadie. I definitely think a little physical correction is required here." He smoothed his hand over her bare round ass, and Matt watched her squirm and giggle.
"My god, she's hot tonight," he observed.
"I've been neglected." Sadie's muffled voice came back at them.
Joe slapped her bare butt hard, and then soothed it with the palm of his hand. "Then I shall make amends right now, darlin'." He slapped her ass again, and then took hold of the butt plug and generously spread lube on it. When he held it against her puckered hole, Matt heard her sharp intake of breath. "You ready, darlin'?" Joe asked.

KINDLE || KINDLEUK || KOBO || ITUNES || NOOK || eBOOKS || GooglePlay

You can purchase the paperback book from these stores
AMAZON.COM || AMAZON.CO.UK || BARNES & NOBLE
Check out the other books in the series here