Click cover to see larger image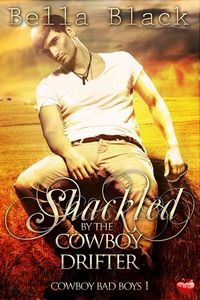 Shackled by the Cowboy Drifter
(Cowboy Bad Boys # 1)
First published by Jan bowles
Ash Carmicheal, an aspiring actress from England, is down on her luck. However, when she meets Zack Delaney, a gorgeous cowboy drifter at the diner where she works in Long Beach, California, things start to look up.
Why can't two lonely people enjoy each others company with no strings attached?
Only trouble is, Zack Delaney is not all he seems. An undercover operative with the FBI, he is closing in on a drug cartel. Getting involved with Ash is not an option. In fact it could prove downright dangerous for her. When Ash sees him dealing drugs, he cannot tell her the truth about his work, yet the attraction between them still remains.
They may have shared one night of unbridled passion together, but do they have a basis for a lasting relationship? Or have they both been burned too much in the past?
Available as an e-book PDF, LIT, HTML, Kindle, & EPUB

KINDLE || KINDLEUK || KOBO || ITUNES || NOOK || LUMINOSITY || GooglePlay
||
SMASHWORDS

You can purchase the paperback book from these stores
AMAZON.COM || AMAZON.CO.UK || BARNES & NOBLE
Check out the other books in the series here
Want to read the 1st chapter free? Click here
Excerpt
Shackled by the Cowboy Drifter
With pad and pencil ready, Ash walked up to table five. He was still studying the menu, so she let her gaze wander from the tip of his cowboy boots, past the tight fitting Wranglers, to his strong muscular chest.
This guy did some serious workouts. She could clearly see the six-pack abs under his tight-fitting clothes.
Girl, you need to get a grip and stop salivating.
Maisy was right. She'd been without a man for far too long. Nine months seemed an awful long time to be single, but then hadn't she been burned badly by Rob? She hadn't looked at another man since they'd split. Well, not until now.
Ash noted his black, wavy collar-length hair that fell about his temples, the strong jaw line, the way his large hands held on firmly to the menu. His skin the color of warm teak appeared rugged and weather-beaten. He looked to as if he were in his mid-thirties. When his eyes finally locked with hers, she swallowed hard. Bright blue and striking against his well-tanned skin, they simply took her breath away.
"What can I get you, cowboy?" Her voice sounded shaky even to her own ears, and she hoped he didn't notice.
"I'll have ham, with eggs over easy." She assumed from his drawl he was from the South. So he wasn't a local. Too bad, the guy was just probably passing through.
"Say, do you have any grits?"
She shook her head, pointing with her pencil. "Only what's on the menu."
"Hmm, then I'll have hash browns and coffee." He nodded as she repeated his order back to him. He seemed to notice her for the first time, his gaze slowly travelling from her hands to her face. She had a sudden feeling that he'd ripped the clothes right off her.
"Is that an English accent?"
"Yes," she answered. Now that he'd turned toward her, she noticed the cuts on the one side of his face. The man looked dangerous, and just a little exciting.
"Don't tell me. You came to seek your fame and fortune in Hollywood but ended up waiting tables instead." With an amused expression on his face, he leaned back in his seat and waited for her to answer.
If she hadn't been so annoyed by his glib observation, her jaw would have dropped open. He had her life story to a T in just five minutes flat. She gave him a tight smile. "Yes, we're a sad bunch. Like the song said, 'All the stars that never were, are pumping gas and parking cars.' Guess you now know why I work in this sleazy diner, serving dumbass customers."
Before he could say anything, she lifted up her notepad and continued, "I'd better place your order, cowboy." With that, she turned and walked away.

KINDLE || KINDLEUK || KOBO || ITUNES || NOOK || LUMINOSITY || GooglePlay
||
SMASHWORDS

You can purchase the paperback book from these stores
AMAZON.COM || AMAZON.CO.UK || BARNES & NOBLE
Check out the other books in the series here
Want to read the 1st chapter free? Click here