Click cover to see larger image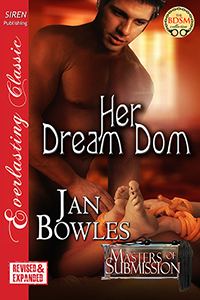 Her Dream Dom
(Masters of Submission # Novella)
When thirty five year old Jack Montrose returns to Club Submission for the first time in three years, he's immediately drawn to Sara Deveraux, a twenty eight year old stunning beauty. Dressed to kill, she's sexually alluring, and everything he desires in a woman.
A proficient rope player and Master of Club Submission in his own right, Jack Montrose knows how to please a lady. But has he met his match in the sexy woman wearing high heels and latex?
Still smarting from the break up with her ex who severely compromised her safety during a bondage scene, Sara is undeniably wary of the new Dom in town. Although, he's so self-assured, and handsome, is she really willing to place her trust in him?
Using his skills as a rope player and natural dominant, can Jack convince Sara that he is serious about her safety? Will trust eventually blossom between them?
Available as an e-book PDF, LIT, HTML, Kindle, & EPUB

KINDLE || KINDLEUK || KOBO || NOOK || NOOKUK || eBOOKS || GooglePlay
Check out the other books in the series here
Want to read the 1st Chapter free? Click here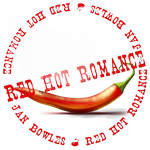 Adult Excerpt
Her Dream Dom
Jack cupped her chin and angled her face to his. He leaned over and kissed her, sending her world into sensory overload. When she parted her lips on a sigh, his tongue snaked inside her mouth to weave with hers. All the while his hands gripped deliciously on her upper arms. She knew he was doing it on purpose, making her feel as though his fingers were tight bindings compressing her flesh.
He drifted his kisses to the fast beating pulse at the base of her throat and tasted it with his tongue. She figured he was testing her reactions, seeing how much he turned her on. Well, she was on fire.
Looking pleased with what he found, his eyes burned fiercely into hers. "Mmm, I think you and I are gonna get along real fine. Just think of rope bondage as an extension of my hands," he murmured, brushing his lips to her ear and teasing the sensitive lobe with his teeth. Pulses of pure pleasure began flooding her body, making her squirm in anticipation.
"Every rope, knot, and cord that I tie will be placed against your naked flesh in order to achieve maximum benefit and ultimate sensory overload. Just think about it, Sara. How would you like to feel my hands all over your body, all at the same time?"
It sounded like heaven to her. She closed her eyes as an image of her bound and at his mercy surfaced in her mind. With her imagination working overtime, a gasp of pure pleasure slipped from her lips. The incredible feeling of being dominated by such a sexy guy totally consumed her. Overwhelmed by his sheer presence, she allowed her head to tilt back, exposing her vulnerable neck even more to his mouth.
Whatever this guy was doing to her, he aroused her with words alone. Just how would she feel when under his complete control?
!Yes," she whispered on a sigh, finally surrendering to his will. Sara could scarcely believe she'd agreed, but her pussy throbbed with sexual excitement. It was why she came to Club Submission. Here, her fantasies could be fulfilled, and Jack might just turn out to be her dream lover.

KINDLE || KINDLEUK || KOBO || NOOK || NOOKUK || eBOOKS || GooglePlay
Check out the other books in the series here
Want to read the 1st Chapter free? Click here