Click cover to see larger image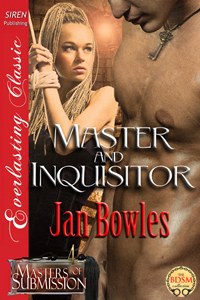 Master and Inquisitor
(Masters of Submission # 4)
When thirty-four-year-old Club Submission owner Ethan Strong hires the enigmatic and beautiful young woman to work behind the bar, he's instantly drawn to the submissive with the sad blue eyes. Twenty-seven-year-old Beth Beaumont's previous Master died three years ago, yet only now does she feel ready to embrace the lifestyle again. Ethan is instantly attracted to his mysterious new employee, and they soon embark on a D/s relationship that breaks all the rules.
Beth's past holds a chilling secret that she dares not divulge--even to her new Master. Her life depends on maintaining her silence.
However, Ethan's inbuilt lie detector never lets him down, and he instinctively knows Beth isn't telling the truth. As a respected Dom, he will not tolerate a sub who repeatedly tries to deceive him. To break her resolve, he calls upon the services of the Inquisitor--a darker, less benevolent side of himself, who never shows any mercy.
Will Beth be forced to yield such deadly secrets to her Master and Inquisitor?
Available as an e-book PDF, LIT, HTML, Kindle, & EPUB

KINDLE || KINDLEUK || KOBO || ITUNES || NOOK || NOOKUK || SONY || eBOOKS || GooglePlay

You can purchase the paperback book from these stores
AMAZON.COM || AMAZON.CO.UK || BARNES & NOBLE
Check out the other books in the series here
Want to read the 1st Chapter free? Click Here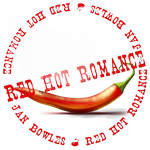 Adult Excerpt
Master and Inquisitor
Ethan took her hand and helped her from the car before putting his arm around her shoulder. He then guided her to the impressive entrance that shared an uncanny resemblance to that of Club Submission itself.
"I see you enjoy the finer things in life, Ethan."
"You bet. I worked my ass off to get where I am today." His mesmerizing green eyes appeared to her as liquid pools of pure energy. They held her enthralled and captivated in a way she'd never experienced before. Not even with Antonio. "I enjoy beautiful things, Beth." Like an aphrodisiac, his words seemed to physically embrace her and pull her toward him, arousing her, making her pussy wet with sexual need.
The frisson of nervous tension in the pit of her stomach intensified when he punched a four-digit code into a keypad, and the impressive twin oak doors swung obediently open. Clearly sensing her apprehension, he took her hand in his, calming her, making her feel safe. In the last few weeks she'd come to trust Ethan implicitly. That was why she was standing outside his awesome home at four in the morning.
"We know each other, Beth. You trust me, right?"
"Yes, of course."
Once inside, she was immediately overwhelmed by the sheer space available. A large entrance hall flowed seamlessly to a treble-width staircase, which rose majestically to a large galleried landing. It was obviously a building designed by and for a man. As a woman she so wanted to feminize the place with brightly colored curtains and soft furnishings. She preferred carpets and rugs, but every square foot of flooring was covered in a dark, uncaring hardwood. Beth found the never-ending expanse of white paint overpowering and far too masculine for her tastes. The only respite to the stark, bare walls was a collection of life-size photographs brutally depicting Ethan's time as a successful bare-knuckle boxer. Yeah, this was a man's domain all right. No woman in her right mind would allow such graphically aggressive images to grace her walls.
Ethan took her hand and led her up the stairs. The stainless steel and glass banister was again something only a man could find attractive. What was wrong with stair carpet and a wooden banister, for Christ's sake?
Like a scene from Alice in Wonderland, they walked hand in hand along the seemingly never-ending landing, until Ethan suddenly stopped outside a large heavy oak door. He moved behind her and circled her waist with his arms, then rested his chin on her shoulder. "Remember what I told you about the Inquisitor, Beth."
"Yes?"
"This is where he satisfies his darkest desires."
"You mean—"
"Uh-huh, this is the Inquisitor's Chamber. Step out of line, young lady, and the Inquisitor will provide the appropriate form of correction."
Beth nodded nervously. "I see." Her voice quavered slightly as she wondered what lay behind the locked door. Appealing to his natural dominance, she lowered her head, and said, "Sir, do I get to see inside?"
"Have you misbehaved, my sub?"
"No, Sir, not today, Sir." She thoroughly enjoyed her part in the role-play.
"Then this room is strictly off-limits to you."
She wondered if he felt the tiny tremors coursing through her veins as he wrapped his arms around her even tighter. She guessed he did, because he seemed to know what made her tick.
He tenderly kissed the top of her head. "Don't worry, little one. I'm sure you'll always be perfectly behaved in my presence. If you're a good girl and don't misbehave, I can't see a reason I'd ever need to bring you here. I trust I've made myself clear."
"Yes, Sir, you have."
His voice was low and menacing when he spoke. "You know what pisses me off more than anything, Beth? What really makes me fucking angry? What makes the Inquisitor appear?"
She shook her head. Fucking hell, her panties were soaking wet again. How the hell did he make her feel this way without even touching her?
"Lies, Beth, lies, that's what really makes me angry, but I'm sure you'll never lie to me." His eyes narrowed on her profile, and she knew he was looking for tells in her body language.
Beth tried not to blush with guilt, but she didn't think she succeeded very well. She'd lied from the first moment they'd met, and she'd hated every minute of the deceit. It went against everything her previous Master had taught her. She consoled herself that although she hated lying to him, it was a necessity, not an indulgence. Whatever discipline Ethan had in store for her, she knew she could never tell him the truth about her past. It could cost her her life.

KINDLE || KINDLEUK || KOBO || ITUNES || NOOK || NOOKUK || SONY || eBOOKS || GooglePlay
You can purchase the paperback book from these stores
AMAZON.COM || AMAZON.CO.UK || BARNES & NOBLE
Check out the other books in the series here
Want to read the 1st Chapter free? Click Here