Click cover to see larger image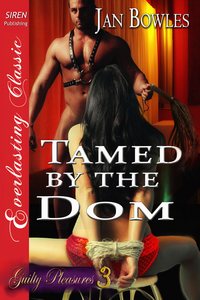 Tamed by the Dom
(Guilty Pleasures # 3)
When Katrina Masters returns to Fairfax, Texas, after seventeen years away, she finds things have changed. The guy she had a crush on at high school is now running a sex club and is a Dom to boot! Common sense tells her to steer well clear, but she's sorely tempted by his job offer.
Self made man, Colt Donahue is a strict Dom. His business, Club Fusion is a great success. He's not about to let the local Sheriff, or the narrow-minded people of Fairfax close him down. He's here to stay.
From the moment he sees Kat he wants her. Just one look in her sultry hazel eyes, and Colt knows the sassy, outspoken, woman is for him. Nothing would excite him more than making her submit to his will.
Colt shows Katrina what a Dom is really capable of, but can he tame the firebrand into complete submission?
Available as an e-book PDF, LIT, HTML, Kindle, & EPUB

KINDLE
|| KINDLEUK
|| KOBO || ITUNES || NOOK || NOOKUK || SONY || eBOOKS || GooglePlay

You can purchase the paperback book from these stores
AMAZON.COM || AMAZON.CO.UK || BARNES & NOBLE
Check out the other books in the series here
Want to read the 1st chapter free? Click here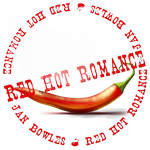 Adult Excerpt
Tamed by the Dom
"My guests won't be wearing much. I hope that won't bother you?"
Kat laughed. "I'm not a shrinking violet, Colt. I can handle myself." She raised a brow as her gaze swept over him. "I had thought you would be wearing a lot less yourself." Her flippant remark almost made her blush.
"Thought or hoped?" He smiled when she didn't answer. "I just monitor what's going on, see that everything is legal and aboveboard. I don't get involved with the customers."
"Oh?"
"No, as I said, I like to get to know someone first." Colt glanced at his watch. "The first of our guests should be arriving soon. If you need me during the evening, I'll be around making sure everything is running smoothly."
Two hours into her shift, Kat realized she was enjoying herself. The guests were friendly, and the time slipped by quickly as she took their coats and answered any questions they had. When a prospective new club member telephoned with a query she couldn't answer, she went in search of Colt.
The heady beat of the music drifted through the club as she went first to the bar and then the nightclub. Everyone looked happy, the occasional laughter bursting through. Colt had been right. The bar was the most popular area, where groups of people congregated, apparently deep in conversation. Surely they couldn't all be talking about sex? He wasn't in either place, so she took a deep breath and pushed open the door to level three.
All sorts of moans and groans came from every direction. She peered in the pleasure pit, guessing he wouldn't be there, but looking all the same. It was very dark. All she could see was group of naked writhing bodies joined together. Her attention was drawn to a door opening behind her and as a man wearing just a pair of leather shorts stepped out, she could see into the dimly lit punishment room. A woman lay over a soft bench, having her bare butt spanked. By the sound of the moans coming from her, she was enjoying it, too. She knew she shouldn't stare, but she couldn't help herself.
"Kat, I didn't take you for a voyeur." Colt's sudden appearance at her side made her spin around to face him. Startled, she held a hand to her mouth.
"I was looking for you."
"I was behind the bar."
"Sorry, I didn't see you. There's a telephone call for you."
The woman being spanked became more vocal, and Kat motioned with her thumb over her shoulder. "I can't believe she's enjoying it."
Colt smiled. "You'd be surprised, Kat. I've spanked women to orgasm before now."
Kat just stared at him. For a woman who'd always had unsatisfactory sex, the idea that she could be spanked to climax seemed far-fetched. "Colt, your ego must be huge. It's impossible to spank a woman to orgasm."
He leaned down and whispered in her ear. "Believe me, honey, I could have you begging for sexual release without any problem whatsoever."
The idea of Colt administering a spanking on her bare butt made her pussy go wet. Then reality struck home. Colt was just teasing her. With her hands on his chest, she playfully pushed him away. "Well, thankfully you'll never get the opportunity to try it, Mr. Overblown Ego."
As she walked away, she could hear him laughing. "Maybe not, but I know the idea turns you on."

KINDLE
|| KINDLEUK
|| KOBO || ITUNES || NOOK || NOOKUK || SONY || eBOOKS || GooglePlay
You can purchase the paperback book from these stores
AMAZON.COM || AMAZON.CO.UK || BARNES & NOBLE
Check out the other books in the series here
Want to read the 1st chapter free? Click here