Click cover to see larger image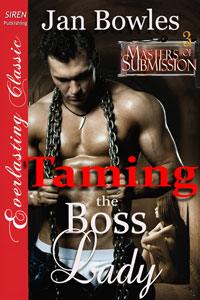 Taming the Boss Lady
(Masters of Submission # 3)
Twenty-nine-year-old Kelly McCloud is not the average submissive. CEO of a large corporate company, she demands and gets respect wherever she goes. Surrounded by weak yes-men, Kelly yearns for the touch of a dominant man--someone who can relieve the pressure in her hectic life.
Natural Dom and Club Submission owner, Matthew Strong is instantly drawn to the sexy, self-assured woman. Just who is this opinionated, outspoken lady who frequents his club night after night? When she turns down all the other Masters, he decides to take control.
At thirty-five, Matthew has the experience to handle any woman, however important she may believe herself to be. With a little careful training, he can mold Kelly into the perfect sub, but when enemies from within surface unexpectedly, his well-laid plans may just have to be put on hold.
Has Matthew finally met his match taming the boss lady?
Available as an e-book PDF, LIT, HTML, Kindle, & EPUB

KINDLE || KINDLEUK || KOBO || ITUNES || NOOK || NOOKUK || SONY || eBOOKS || GooglePlay

You can purchase the paperback book from these stores
AMAZON.COM || AMAZON.CO.UK || BARNES & NOBLE
Check out the other books in the series here
Want to read the 1st chapter free? Click here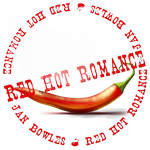 Adult Excerpt
Taming the Boss Lady
"Now to business, Kelly. What made you come to Club Submission? What do you want from us? And more specifically what do you want from me?"
Remaining remarkably composed, even though she sat on a bed with a powerful Dom watching her every move, she was pleased her reply was even and confident. "I have a high-powered job, Matthew. I run a large company, and a lot of people rely on me. I need to leave it all behind in my private life."
"So you don't enjoy being the boss?"
"Oh, yes, I do. I was born to be in charge." She paused for a moment, looking for the right words. "It's difficult to explain, but...in my job, I'm surrounded by simpering yes-men. They do nothing for me. I despise them. I've come to the conclusion I need a man to take control in my private life. I need to feel like a feminine, vulnerable woman. Rather than a woman men are frightened of." She held out her hands, palms up. "Does that make any sense?"
"Yes, to me it makes perfect sense. Human beings have been hunter-gatherers since the dawn of time. The men always went out hunting, while the women stayed at home looking after the children and preparing the meals." He sighed. "It seems the world has moved on, but our emotions haven't caught up yet. Men and women of today are wired up exactly like their ancestors. This means men are hardwired to be dominant, and women are hardwired to be submissive. It's been like that for millennia."
A wonderful, glorious feeling of absolute calm flooded Kelly's body. "Thank God, at last, a man who can understand me." Their eyes connected, and she felt sure he could read her thoughts. "Kiss me."
He stared at her for what seemed an eternity, before saying, "Come here."
Desire pooled in her stomach, as she rose from the bed on wobbly legs, and slowly moved across to him. He stood only a few steps away, but it felt like a mile. As she drew inexorably closer, she felt his primal animal warmth and masculinity crossing the divide between them. Goddamn, what will this guy do to me if I let him?
A slightly triumphant smile drifted to his lips as he focused intently on her. His hands rested on her shoulders, before smoothing down her arms. Without warning he circled her wrists and held them tightly together behind her back. His dominant act of ownership thrilled and excited her. Her arousal went off the scale, making her pussy throb with need. A whimper of sexual craving spilled from her lips as his body pressed along the entire length of hers.
His hot breath whispered against her neck as he spoke quietly and ominously in her ear. "Understand this, regardless of how powerful you are at work, I'm in charge around here. I decide if, what, and when. My word is law." Holding her wrists in one hand he grabbed a handful of her hair with the other, twisting it in his grasp, making her head tilt back, forcing her to meet his gaze. Gorgeous green eyes filled her vision. She could see flecks of gold, speckling his mossy green irises. Her back arched and her pelvis rested against his hips. Her pussy pressed provocatively against the obvious bulge in his leather pants. No man had ever treated her like this, and she liked it. Her breasts heaved as her nipples puckered into hardened points.
His eyes swept slowly over her quivering, prone body. "I can see being dominated turns you on."
"Yes," she whispered, barely able to speak.
"Tell me what you want. I want to hear it from your own lips, Kelly."
Her heart rate accelerated as he brushed his mouth across hers. She couldn't think straight, let alone make any coherent conversation. "Make me feel like a vulnerable, desirable woman, Matthew." Her words were barely audible.
"You're very beautiful, Kelly, it will be my pleasure, but are you willing to surrender total control to me?"
"Y-yes."
"Then on your knees, and pledge your submission."
His request took her completely by surprise. In a brief moment of hesitation, she felt his demeanor change. "Hmm, just as I thought. You're not quite ready to let go yet, are you?" He gently set her back from him. "Go home, Kelly, and come back when you're willing to play the game."
Shaking almost uncontrollably, she breathily replied, "I want to submit. I really do, but I just can't hand over control that easily." Feeling compromised, but knowing he was right, she made for the door.
"Kelly." She turned and looked into his incredible green eyes. "Remember this. If you come back to Club Submission, you'll belong to me one hundred percent. You'll be mine to do with as I see fit. Only then can I fulfill your every fantasy."

KINDLE || KINDLEUK || KOBO || ITUNES || NOOK || NOOKUK || SONY || eBOOKS || GooglePlay
You can purchase the paperback book from these stores
AMAZON.COM || AMAZON.CO.UK || BARNES & NOBLE
Check out the other books in the series here
Want to read the 1st chapter free? Click here