Click cover to see larger image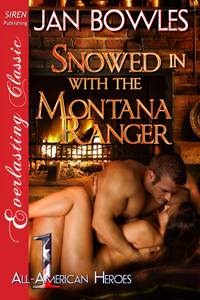 Snowed in with the Montana Ranger
(All-American Heroes # 1)
When thirty-two year old Professor Brooke Johnson, arrives in Glacier National Park, she's there to do a job. After a bitter divorce, she's certainly not looking for a relationship, especially with sexy Montana Ranger, Travis McTeer, whose only interest is laying down the law...hard.
With two dangerous fugitives on the loose, thirty-six year old, Travis is not about to take any chances, even if that means upsetting the beautiful, yet prickly professor. On his patch, no one breaks the law.
Fate intervenes, and throws these two opposites together. Now, it's a battle against the elements, and two desperate criminals intent on killing them. As they run for their lives in the worst snowstorm to hit Montana for a decade, will they learn to trust one another?
Will love flourish when they're snowed in together?
Available as an e-book PDF, LIT, HTML, Kindle, & EPUB

KINDLE
|| KINDLEU
K || KOBO || ITUNES || NOOK || NOOKUK || SONY || eBOOKS || GooglePlay
Check out the other books in the series here
Want to read the 1st Chapter free? Click here
Awards for Snowed in with the Montana Ranger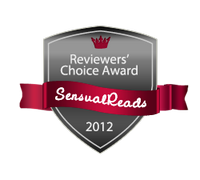 In 2012 ~ I received Sensual Reads Reviewers Choice Award for my Erotic Contemporary ~
Snowed in with the Montana Ranger
This was a huge honour to receive and I thank all the reviewers and ladies of Sensual Reads for making it happen. Thank you.
My book Snowed in with the Montana Ranger has been awarded Reviewers Choice 2012 for Erotic Contemporary.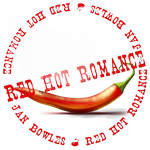 Adult Excerpt
Snowed in with the Montana Ranger
"Having trouble?" Travis McTeer had a huge smile to his face as he watched her struggling with the chains. Those dimples sure were sexy. Damn. Concentrate on what you're doing, girl.
"No, I'm perfectly fine," she answered irritably, wondering why she felt like Jell-O around him.
"Are you sure?"
Brooke tried to attach the links together with the hook, but scuffed her hand in the process. Maybe she should just admit defeat. "Well, okay, I guess you can see I can't quite get this hook in place." She looked up. He had a smug self-satisfied smile to his face. "Shouldn't you be directing traffic?" she commented sarcastically.
"Even rangers are allowed breaks." He squatted down and took the heavy chains from her. "Here, let me do that. Your delicate little hands aren't designed for fitting snow chains. They'll rip them to shreds. Especially in this freezing weather."
Brooke stood and then blew on her hands to restore the circulation. The air sure was cold. "Go on, say it."
"Say what?" he asked, hooking the chains on the tire with ease.
"Let a man do a man's, ''cause that's what you're thinking. I bet you think I'm only good at painting my nails and shopping."
He laughed for the second time. "I see, Professor. So you think I'm some sort of male chauvinist?"
"Well, aren't you?"
"Perhaps, but there's plenty of women capable of fitting snow chains 'round these parts."
"Oh, that makes me feel better already," she snapped irritably. He looked her up and down.
"It's just that they're not quite as petite and feminine as you, Professor."
She had mixed feelings about his observations. It pleased her that he found her feminine and womanly, but annoyed her that he thought her incapable of looking after herself. Brooke placed her hands defiantly on her hips. This man was infuriating.
He raised an eyebrow. "Now don't go and get all riled up. Not when I'm doing you a favor." He moved to the next wheel. "So what brings you to Glacier? The scenery, or something else?"
"'I'm doing a five-year research project."
"What on?"
"Climate change. It's part of a UN directive."
"I'm impressed." He held out his hand. "Professor, give me the keys. I need to drive your car forward a couple of feet to wrap the chains 'round the tires."
"Are you gonna call me Professor all the time?"
"I'm just trying to be professional, ma'am. Why?"
"It makes me feel like you're one of my interns at the research center where I worked in Portland."
He smiled. "I take it they're young, eager puppies all trying to impress."
Brooke nodded. "Yeah, totally unlike you, I might add, in every respect."
He chuckled. "I guess I was asking for that, Professor." He thought for a moment. "Maybe we should be on first-name terms, considering you'll be on my patch for the next five years. I can't keep calling you Professor."
"Very well, call me by my first name."
An amused expression surfaced on his face. "Why, thank you, Brooke, that's real friendly of you." He took the keys from her hand and began easing into her driver's seat. "Christ, you're tiny, Brooke. I've gotta move this seat all the way back to get in." She watched him press the switch for the electric seat, and it began to glide slowly backward.
"You remembered my name?"
"Part of my job, Brooke. It's on your driver's license." He started the car and eased it forward a few feet, rolling the tires over the chains. He made it look so simple.
In next to no time, he had all four wheels booted up with snow chains and tensioners. When he handed back the keys with a smile, Brooke couldn't help but let her gaze rest on his big, strong hands. With some satisfaction she noticed he wasn't wearing a marriage band on his finger. Why she'd even bothered looking she hadn't a clue. She certainly wasn't interested in starting another relationship, especially with a man as obviously chauvinistic as Travis McTeer. Perhaps it was just her curiosity working overtime.
"Hey, Bear. You need to take over here, it's time for my break," a colleague called from the roadside.
Travis raised a hand in acknowledgment to the other ranger controlling the traffic. "Yeah, sure, Josh. Be right over."
"I thought your name was Travis?"
"It is."
"But didn't he just call you Bear?"
"Yes, it's a long story. Maybe I'll share it with you one day."

KINDLE
|| KINDLEU
K || KOBO || ITUNES || NOOK || NOOKUK || SONY || eBOOKS || GooglePlay
Check out the other books in the series here
Want to read the 1st Chapter free? Click here